Syngonium
Lianiforme native plant of Mexico. It can tolerate a minimal temperature of 14°C.
SYNGONIUM ARROW
BK/18

It needs light but not direct sunlight.

In spring and summer with complete liquid fertilizer once a month.

To keep the soil always damp, avoid water stagnation.
Similar

Product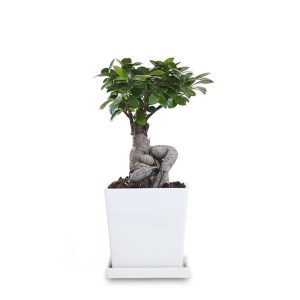 Ficus Bonsai
It is a species of tropical Ficus, belonging to the Moraceae family, which for tradition is cultivated with bonsai, being durable, easely adapt to the interior conditions of an apartment but is quite rare in nature. It's a very malleable plant and easy to maintain, with a very large, sinuous, twisted and extremely wide trunk. The foliage is very wide, leafy and shaded. In nature it reaches impressive sizes, while in cultivation it does not exceed 3 meters.
FICUS BONSAI GINSENG
Gr.500 CP/20 H= 50/60 CM
Gr.500 VC/20 H= 50/60 CM
Gr.750 CP/25 H= 60 CM
Gr.750 VC/20 H= 60 CM
Gr.1000 CP/25 H= 70 CM
Gr.1000 VC/
Quick View