MORE THAN 300 DIFFERENT PLANTS PRODUCED
Our production includes more than 300 different plants belonging to more than 60 different varieties, among which Spathiphyllum, Anthurium, Scindapsus, Dieffenbachia, Schefflera, and Phalaenopsis stand out Thanks to the constant temperature of over 25 degrees, even during winter season, high quality, and sturdiness the production capacity is guaranteed all year round maintaining a low environmental impact.
The Spathiphyllum Martina TM is an exclusive product of Floramiata, it was obtained by meristem culture in the internal research laboratory; an elegant plant enriched by magnificent white flowers that make it a precious furnishing accessory. The cultivation techniques used try to favour the growth of the plant with nutritional contributions and non-invasive forcing systems that allow obtaining stronger plants, with a long shelf-life and able to harmoniously adapt to the domestic environment they are destined to.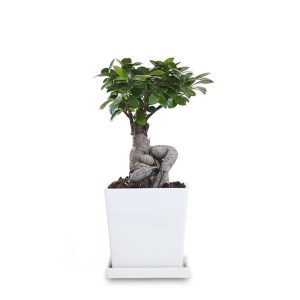 Ficus Bonsai
It is a species of tropical Ficus, belonging to the Moraceae family, which for tradition is cultivated with bonsai, being durable, easely adapt to the interior conditions of an apartment but is quite rare in nature. It's a very malleable plant and easy to maintain, with a very large, sinuous, twisted and extremely wide trunk. The foliage is very wide, leafy and shaded. In nature it reaches impressive sizes, while in cultivation it does not exceed 3 meters.
FICUS BONSAI GINSENG
Gr.500 CP/20 H= 50/60 CM
Gr.500 VC/20 H= 50/60 CM
Gr.750 CP/25 H= 60 CM
Gr.750 VC/20 H= 60 CM
Gr.1000 CP/25 H= 70 CM
Gr.1000 VC/
Quick View